This little device will give you some good vibrations. The unique thing about the We Vibe is that it can stay inserted even during intercourse. It is equipped with two vibrating motors so it can easily excite the two hot spots, both internal and external.
With variable speed, you will be able to find a setting that is perfect for you.
Pros:
This little device is made of medical grade silicone so it is completely safe internally and externally.
It is non porous and the power switch is protected.
The whole toy can be cleaned and it won't have any unpleasant smells that are associated with lesser toys.
The silicone is ribbed on the inside so that even under intercourse it won't slip about or get knocked out of place.
If you have a vibrator that is loud the sound can be not only distracting, but obnoxious.
The We Vibe is very quiet, especially for the amount of power it produces. It is so quiet that you can use it even with people around and they won't have a clue as to why you have that deliriously happy look on your face.
Cons:
Because of the protection process of the switch, you may need to get the hang of getting it turned off and on but after you get used to it, you will have no problem.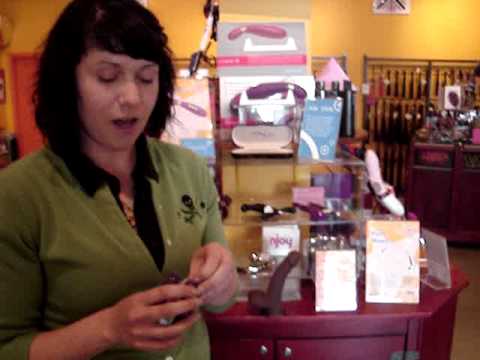 Popularity: 1% [?]
The Lelo Gigi is a premium toy that is designed to give its users some of the best user experiences on the market. Everything, from the shape of the toy and it's materials, all the way down the packaging has been thought out and engineered to give you the most possible pleasure. Unlike other toys which might require add-ons or attachments, this toy has many uses in it's current form. Besides the user, LELO gave consideration to the environment and included rechargeable batteries inside of this toy, and gave you just another way to go green.
Popularity: 2% [?]
The Hitachi Magic Wand has developed a cult following in the sex toy community as one of the most powerful vibrators available. The Magic Wand is more commonly known as a muscle massager, though many of it's features lend itself to excellent sexual gratification. Because of it's versatile foam head, many attachments are available for the Magic Wand for stimulating different parts of the anatomy.
One of the most highly recommended attachments is the "Gspotter". This attachment fits securely over the foam head of the Magic Wand and carries it's vibrations to their intended destination.
Pros:
The Hitachi Magic Wand is easy to handle and use. It's generous handle makes it easy to maneuver, regardless of the position one might be holding it from.
The Magic Wand has a very discrete form factor. Unlike other sex toys that have all kinds of sparkly multi-colored features, the Magic Wand is discrete, and the Gspotter add on is small enough to be easily hidden and relatively innocuous as well.
The Gspotter attachment is made out of silicone. This provides it a number of advantages. First, it's easy to clean. A before and after cleaning take just a minute, and it's non-stick surface doesn't protest a good wipe down. Second, it's compatible with water based lubricants. Though silicone lubricants may damage this device, the benefits far outweigh the problem there.
Since the Magic Wand comes with a foam head on it, it works great as a clitoral stimulator. However, with the Gspotter add on, it works great as both. The extender attachment easily goes inside to stimulate the G-spot, while the base of the Gspotter provides ample clitoral stimulation.
Because the Magic Wand doesn't use batteries, you'll never find yourself left high and dry scouring around the house looking for a pair of D batteries. The Magic Wand comes with an ample cord, and plugs right into the wall. This means that it can last as long as you can.
The Magic Wand is simple to use. There are no knobs or levers, it simply has two settings: High and Low. This simplifies things and allows you to place your concentration else where.
Cons:
The Magic Wand isn't a small device. It has considerable size compared to other items on the market, and with the Gspotter add-on, it certainly isn't the optimal size for being portable. If you're looking for something to bring with you places, this maybe isn't your best choice.
Though it's simple to use with it's two settings, it only has two settings. If you're looking for more fine grained control over the vibration, look elsewhere.
The Magic Wand uses no batteries, however this means it uses a cord. If the notion of an extension cord going into your bed bothers you, this isn't for you. In addition to being tethered, this also severely limits the portability of where you can use the device.
Video Review of The Hitachi Magic Wand With G-Spot Attachment
Popularity: 4% [?]