After gaining much notoriety after being debuted on the first season of "Sex and the City" by fictional famed sex columnist, "Carrie" the Rabbit vibrator has exploded in popularity as women all around the world are discovering the wonders of simultaneous stimulation. Made out of a soft jelly, the material is soft and supple, backed up by a firm inner shaft of ball bearings made to rotate.
The Rabbit is known for it's distinctive protrusion on the top of it with two small tongs. No, it's not modeled after a tree. It has a specific extremity for specifically stimulating the clitoris. The Rabbit is not just unique because it focuses on the Clitoris, but because it also has a rotating head, complete with ball bearings. The top of the toy rotates, stimulating the G-spot.
The Rabbit isn't just versatile in it's uses, but in where it can be used. The Rabbit is completely water proof and can go underwater without a problem. It's easy to clean and easy to travel with. Since it doesn't require a charger, it's very portable to use.
Pros:
The Rabbit is the only toy to have internal stimulation of the G-Spot and a piece specifically designed to rest on the woman's clitoris. In addition, it offers independent controls of both features so a woman can enjoy low vibrations on her clitoris while receiving a high level of stimulation on her G-spot.
The dual stimulation features come with easy to understand controls, and lights that indicate the level of stimulation the user is receiving.
The toy is built for use, and has a durable feel to it. It's been designed for women, by women and is easy to clean, use and maintain.
The Rabbit works off of three commonly available double A Batteries. If you're feeling green, you can use rechargeable batteries in place of alkaline cells.
The Rabbit is easy to clean using soap and water, baby wipes, or specially made toy cleaner. The soft jelly construction is non-porous and avoids collecting dirt, bacteria, and excess lube.
The Rabbit is happy in your bed or underwater. Simply tighten the cap to the batteries, and enjoy a sensual soak in the tub or a new way to make your showers extra relaxing.
Cons:
With two motors, lots of options, and a lot of movement happening, the three double A batteries will need replacement if you use this device with any frequency. Despite the fact they are easily replaced, the disposable batteries still take a toll on the environment and your wallet. Though many complain about battery life, one important note is to make sure to take out the batteries while not in use. This will greatly increase the battery life.
Many people report short lifespan by even infrequent users.
Video
Popularity: 1% [?]
The We-Vibe is a revolutionary sex toy not only in it's design but it's use. The We-Vibe is not just single person sex toy. In fact, the We-Vibe has gained such accolades because it is the only toy on the market that can be used by couples while having sex. This isn't to say you couldn't have a good time with the We-Vibe by yourself, quite the contrary, but the fact you can use it with a partner just adds to the allure of this toy.
Despite it's revolutionary design and use, it works great as a traditional toy, and excels as a G-spot stimulator.
Pros:
Comes in a wonderful case that looks like a pair of sunglasses. It's discrete and small. You can carry it anywhere with you, even in your purse.
The We-Vibe has rechargeable batteries. It comes with an included AC adapter that you simply plug in to the unit, and the batteries top themselves off.
The same toy has both a clitoral as well as G-spot stimulator; both of which you can use during intercourse with your partner.
Simple to use. There are two vibrational settings, a high and a low.
Excellent battery life. Toys are now starting to be rated like cellphones because they both use rechargeable batteries. The We-Vibe has a stand by time of 60 days. That's over 2 months. No matter how infrequent your sex life might be, it seems like the We-Vibe will be ready and waiting for you.
If during those 60 days you do manage to find a use for the We-Vibe, it has an ovary-scrambling in-use rating of up to 2 hours. Since it's rechargeable you needn't worry about finding batteries for it, just plug it into the wall, and you'll be ready to go again soon.
The flexible nature of the dual vibrators means that it's very comfortable to use. It's medical grade silicone is very accommodating to even the most delicate anatomy.
Though this resides inside the woman during intercourse it does not offer any problem for the man. In fact, often times men report increased pleasure as the internal vibrator actually stimulates the man as well.
Cons:
Because it's made of silicone, you won't want to use a silicone lubricant with this toy because it will damage it.
The charge jack can be difficult to insert the first time for fear of breaking the toy. Fear not, just push it through into the jack, it's designed for this.
The vibration setting applies to both vibrators. So if you wanted more G spot stimulation, but less clitoral stimulation, that wouldn't be feasible without turning both of the vibrators up or down.
Video Demonstration of the We Vibe
Popularity: 3% [?]
This little device will give you some good vibrations. The unique thing about the We Vibe is that it can stay inserted even during intercourse. It is equipped with two vibrating motors so it can easily excite the two hot spots, both internal and external.
With variable speed, you will be able to find a setting that is perfect for you.
Pros:
This little device is made of medical grade silicone so it is completely safe internally and externally.
It is non porous and the power switch is protected.
The whole toy can be cleaned and it won't have any unpleasant smells that are associated with lesser toys.
The silicone is ribbed on the inside so that even under intercourse it won't slip about or get knocked out of place.
If you have a vibrator that is loud the sound can be not only distracting, but obnoxious.
The We Vibe is very quiet, especially for the amount of power it produces. It is so quiet that you can use it even with people around and they won't have a clue as to why you have that deliriously happy look on your face.
Cons:
Because of the protection process of the switch, you may need to get the hang of getting it turned off and on but after you get used to it, you will have no problem.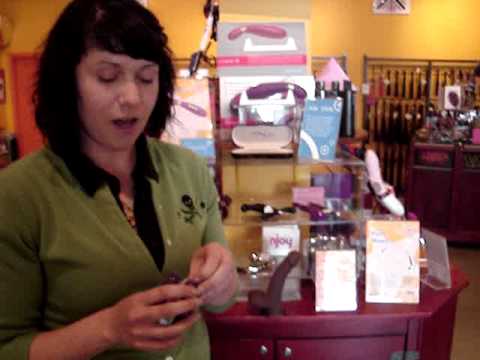 Popularity: 1% [?]