Belladonna, also known as enchanter's nightshade and apples of Sodom was thought to be an herb that was tended to by the Devil himself except on Walpurgis Night. At that time the Devil prepared a witches' Sabbath.
On that night the herb 'Belladonna' metamorphosed into an enchanting woman who was beautiful to gaze upon but deadly to behold.
The plant can produce hallucinations and as such was often used to spike wine in expectation of an orgy, which caused frenzy and hysteria. Another use for Belladonna was as eye drops which would dilate a woman's eyes making her appear to be more beautiful and seductive.
Belladonna means beautiful lady.
Belladonna Evil Pink Vibrator Smooth is the result of a partnership between porn star Belladonna and Doc Johnson.
This vibrator is shaped somewhat like a typical insertable vibrator and is equipped with an easy grip handle.
It is approximately 6 ½ inches from tip to base.
There are many other variations on this design in longer and or beefier dimensions.
Powered by two AAA batteries, the controls are easily accessed and the intensity is adjustable from soft to about as high as you'd want to get.
The 'smooth version is a no frills version, there are other versions that offer other features such as bumpy, which is just like the name describes it.
With many varieties to choose from, you're sure to find one that will provide you with the sexual pleasures you desire.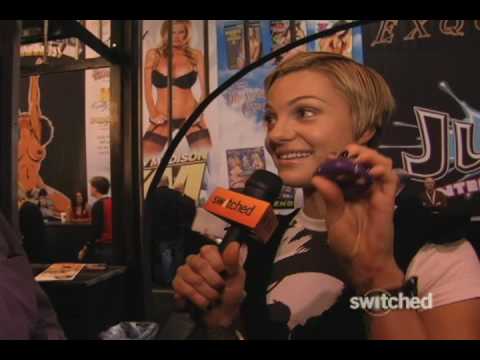 Popularity: unranked [?]
The We-Vibe is designed as an internal vibrator that can be worn during intercourse without interrupting or restricting movement.
The We-Vibe provides stimulation to both the clitoris and the g-spot simultaneously, being held in place by tension.
It is made out of a hypoallergenic, non-porous, medical-grade silicone and is powered by two separate motors with two vibration settings.
This little device is fully rechargeable and can never be overcharged, it is splash proof and discreetly quiet.
The only unfortunate thing is it requires a 24 hour charge before initial use, which may be quite a challenge in waiting for some of us.
If this is your first time playing with this toy, you will want to give it a trial run using it on your tummy or your inner thighs on all settings, this will give you an idea as to what to expect once it is in place.
Once the We-Vibe is in place, you can keep it there by a number of different means, one is using a nice tight fitting pair of panties in order to enjoy hands free stimulation.
With your partner, this little device becomes even more stimulating.
You can try a whole variety of positions and your partner will feel the stimulation too. Don't let its diminutive size fool you, this is a little powerhouse packed full of all sorts of stimulating fun.
Popularity: unranked [?]
The original Jack Rabbit seems to be one of the most celebrity endorsed Rabbit vibrators in the world.
The Vibratex Original Jack Rabbit Pearl Vibrator is so high on the popularity charts that it has spawned an insurgence of countless numbers of cheaper imitations.
This dual action vibrator as a respectable 7.2 inch shaft that includes a compartment filled with dancing pearls at its base.
These pearls stimulate and massage the vaginal walls while the Rabbit is fully inserted.
The Rabbit for which it is named has a set of mischievous ears that tickle and stimulate your clitoris unmercifully.
This is not a slim-line vibrator by any means, it is rather substantial in it's stature but this is part of its charm.
It is powerfully strong and can super-stimulate when you wish it to.
When you get ready to use this vibrator for the first time, it would be a good idea to use all the different settings and intensities on your stomach or your inner thighs before you insert it and set it on its highest setting.
This is a quiet machine, however if you start it on the highest setting without ever having used it before,  the noise you will make embedding yourself into the ceiling will not be so quiet and it might be a little uncomfortable coming up with an explanation.
Popularity: unranked [?]
The Lelo Gigi is a best selling design that is clean and sleek. There is nothing suggestive about it as far as male genitalia and it isn't anything that might give you an emotionally dirty feeling interacting with it.
This little vibrator is meant to be used on the g-spot and the clitoris:
The head of it is shaped flat in order to gently massage the g-spot.
It can also deliver an intense clitoral stimulation.
If you want to enhance your experiences with it, you may wish to apply a small amount of water based lubricant to the head.
Once inserted it is not hard to nestle the head right up against the g-spot in order to deliver an extremely stimulating and sexually satisfying experience.
One nice thing about this little vibrator is if you can't wait to give it a try, you won't have to, it comes from the factory fully charged and ready for use:
It is packaged in a fabric covered black box and nestled inside a black satiny feeling bag for storage purposes.
You should get about four hours worth of play time on a two hour charge.
Great For Travel
If you have ever traveled with a battery powered vibrator and had a bump or bang set it to work in  your purse or suitcase, you will appreciate the Gigi for it's lockdown feature that requires a button be pushed for five seconds before it will reactivate.
The Gigi has five pre-programmed stimulation settings and is very quiet when in use.
It has five pulse patterns and you can vary the intensity of any and all of them.
Popularity: unranked [?]
The G-Wiz is a bright pink, wonderfully soft to the touch, device that has an insertable length of approximately 5.12 inches and is about four inches around at the widest point.
It is run on two triple A batteries.
The intensity controls are in a button on the base, which allows you to cycle through the settings any time you wish and at any frequency.
This little wonder is totally waterproof so it can go with you wherever you wish to take it, and is very easy to keep clean and sanitary.
Because of the diminutive size of the device, it warms up quickly and attains wonderful warmth while inserted.
This vibrator is quite powerful and you may not even use its full ability.
The Hitachi Magic Wand is a perfect shape to use on your clitoris and outer lips, even your anus if you so choose, the padded rounded massage surface is gentle to the skin yet backed by a powerful vibrator that is sure to reach any intensity you desire.
With the G-Whiz inserted at a desired intensity and the Hitachi Magic Wand in use on the outer areas of your nether regions you are sure to reach satisfaction in an explosively enjoyable manner.
Warning:
You'll probably want to be alone during the use of these two devices, they don't make much noise, but it's a pretty sure bet that you will.
Popularity: unranked [?]
The Wild G Spot Vibrator has been described over and over again with one sentence, or should I say question, and that question is 'who needs a man'.
The Go Anywhere Toy
This little toy is water proof and battery operated, so it can go basically anywhere you feel like having a little sexual stimulation, or even more than just a little sexual stimulation.
Use It In The Bathtub
How about laying back in a hot bath, with mounds of crisp white bubbles tickling your nose, while the Wild G Spot Vibrator tickles your delicate nether-regions, sending you gyrating slowly to its influence, the bath bubbles moving in soft telltale waves?
In The Shower
Or, how about standing in the shower, the hot steamy water dappling your skin, running down your body leaving a warm shine in its path, you lift your face to meet the spray of warm wet pliable crystals . . .
Your body shivers, though the water keeps it warm, trembles run though you like waves climbing a beach.
Your clitoris is hot with fire and a buoyancy that feels you might lift through the ceiling.
Your lips and inner surfaces are gently massaged and vibrated, lifting your level of excitement to a bursting point as you steady yourself in the stall, your body raging with trembles of anticipation….
If you want the rest of the story, you will want to purchase The Wild G Spot Vibe.
Popularity: unranked [?]
This little 'magic wand' being marketed by Hitachi is marketed as a personal massager:
They have a little booklet in with the massager showing muscle pressure points that it can be used on, but they don't fool the average female consumer.
With a shape like that, there is but one main use it could be made for.
Add to that, the optional insertion piece called 'The Jelly G-Spot Hitachi Magic Wand Attachment' and you get more than just a general idea what this little device was made for and capable of doing.
A Full Body Experience
Of course this little massager could be used on other parts of the body such as aching muscles or other pressure points and it would do a fine job of relieving stress and pressure in those areas, getting blood flowing better and thereby removing impurities from the muscles.
This little device  is also behaves like  it was made for something much more delicate in nature.
It has built a strong following of woman that appreciate it for what it can do for their sexual desires.
Dual Speeds

With it's strong motor that achieves two different speeds, it is capable of delicately vibrating a woman's g-spot or clitoris or it is capable of a much more frantic vibration that would be capable of sending a woman over the top of her orgasm.
One thing is certain; it won't stop before she reaches satisfaction.
Popularity: unranked [?]