Here's a video with simple instructions on how to find the female G Spot using your finger, and how to apply proper stimulation that can produce Gspot orgasms.
Watch this video demonstration on how to stimulate the G Spot:
Click Here to Learn More Ways to Give G Spot Orgasms
Popularity: 4% [?]
Believe it or not, women can make mistakes when trying to locate their G-Spot.  We don't know ourselves as well as we would sometimes like to believe.  Some of the following may appear to be obvious to you, but not everyone knows.
The G-Spot is not outside the vagina.  Contrary to what many believe, the G-Spot in on the inside wall of the vagina.
You do not have to press it really hard and fast.  As a rule of thumb the best way to stimulate the G-Spot is to go with what feels good.  If you are trying to stimulate someone else then be attentive to what they are feeling.
"Scientists" say that the G-Spot may not exist.  Well this is a load of old rubbish, and anyone who has actually stimulated their G-Spot will tell you this without a moment of hesitation.  Scientists are probably too busy with their test tubes and Bunsen burners to have any fun at all!
The G-Spot is not compulsory for all sexual relationships.  Don't get hung up on the G-Spot, it isn't the be all and end all of a successful relationship, and there are some people who can't stimulate it as much as they can their clitoris.
You are not supposed to have multiple orgasms or ejaculate every time you orgasm with G-Spot stimulation.  This is entirely dependent on the person doing the stimulating, the person being stimulated, and indeed the general physical make up of the woman involved.
Popularity: 1% [?]
Most men & women focus on physical stimulation when trying to achieve female orgasm. This is incorrect, and Daniel Rose explains why in this video: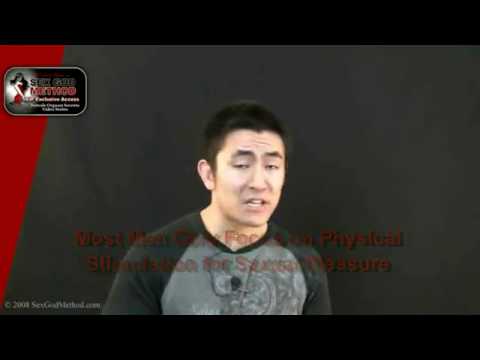 Popularity: 1% [?]