Missionary position might sound clean and right, but the plain fact of the matter is that you have a hard time getting in touch with the female g-spot in this position. This means she's not got much of a chance of reaching an orgasm with this position unless she has had a large amount of stimulation beforehand; enough to put her almost to orgasm by itself.
So for proper g-spot stimulation, its important to try other positions as well. 
The first alternate position to try is with the woman on top.
Some women won't be able to do this position because it feels uncomfortable for them however most will not only be able to do it, but enjoy it immensely. Many men find this position an extreme turn on. In this position the woman can control depth, intensity, and speed. She can also tease by not moving and drive the man crazy.
This can be very stimulating for both parties, it also puts her in control of using her movements to put your penis in just the right position to hit her g-spot.
Another alternate position is commonly known as 'doggy style.' This position has the woman on her hands and knees and the man on his knees behind her.
In this position, both parties can share control of all aspects and the woman can move her body in order to guide the man's penis exactly where she wants it to be. The man can do all the work, or the woman can do all the work, or it can be shared. She may even drop down to her elbows rather than hands.
There are other positions that are just as exciting, do yourselves a favor and explore. Be open minded and adventurous.
Popularity: unranked [?]
Belladonna, also known as enchanter's nightshade and apples of Sodom was thought to be an herb that was tended to by the Devil himself except on Walpurgis Night. At that time the Devil prepared a witches' Sabbath.
On that night the herb 'Belladonna' metamorphosed into an enchanting woman who was beautiful to gaze upon but deadly to behold.
The plant can produce hallucinations and as such was often used to spike wine in expectation of an orgy, which caused frenzy and hysteria. Another use for Belladonna was as eye drops which would dilate a woman's eyes making her appear to be more beautiful and seductive.
Belladonna means beautiful lady.
Belladonna Evil Pink Vibrator Smooth is the result of a partnership between porn star Belladonna and Doc Johnson.
This vibrator is shaped somewhat like a typical insertable vibrator and is equipped with an easy grip handle.
It is approximately 6 ½ inches from tip to base.
There are many other variations on this design in longer and or beefier dimensions.
Powered by two AAA batteries, the controls are easily accessed and the intensity is adjustable from soft to about as high as you'd want to get.
The 'smooth version is a no frills version, there are other versions that offer other features such as bumpy, which is just like the name describes it.
With many varieties to choose from, you're sure to find one that will provide you with the sexual pleasures you desire.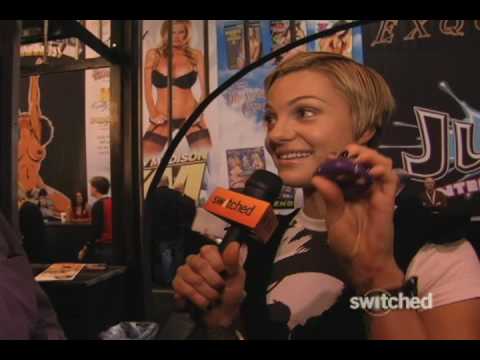 Popularity: unranked [?]
The We-Vibe is designed as an internal vibrator that can be worn during intercourse without interrupting or restricting movement.
The We-Vibe provides stimulation to both the clitoris and the g-spot simultaneously, being held in place by tension.
It is made out of a hypoallergenic, non-porous, medical-grade silicone and is powered by two separate motors with two vibration settings.
This little device is fully rechargeable and can never be overcharged, it is splash proof and discreetly quiet.
The only unfortunate thing is it requires a 24 hour charge before initial use, which may be quite a challenge in waiting for some of us.
If this is your first time playing with this toy, you will want to give it a trial run using it on your tummy or your inner thighs on all settings, this will give you an idea as to what to expect once it is in place.
Once the We-Vibe is in place, you can keep it there by a number of different means, one is using a nice tight fitting pair of panties in order to enjoy hands free stimulation.
With your partner, this little device becomes even more stimulating.
You can try a whole variety of positions and your partner will feel the stimulation too. Don't let its diminutive size fool you, this is a little powerhouse packed full of all sorts of stimulating fun.
Popularity: unranked [?]